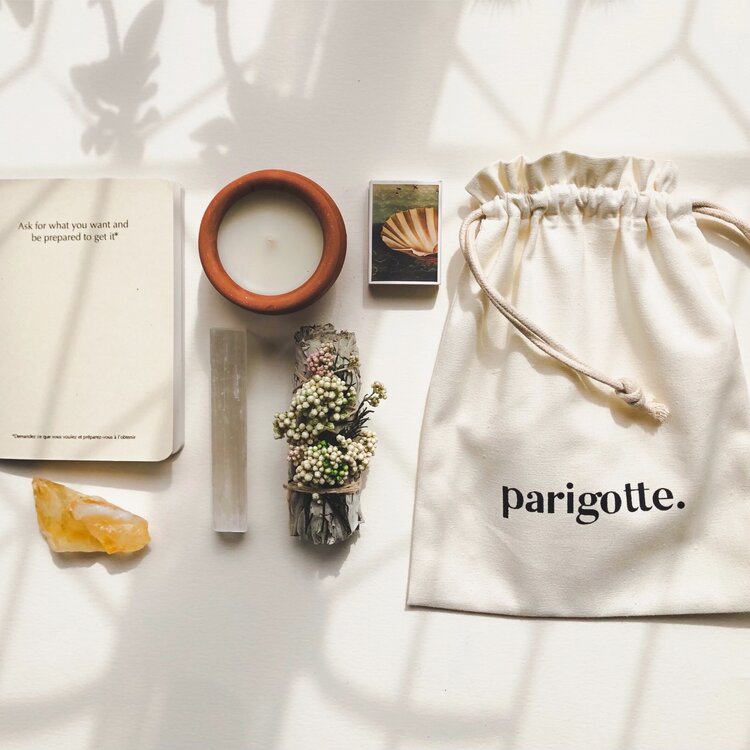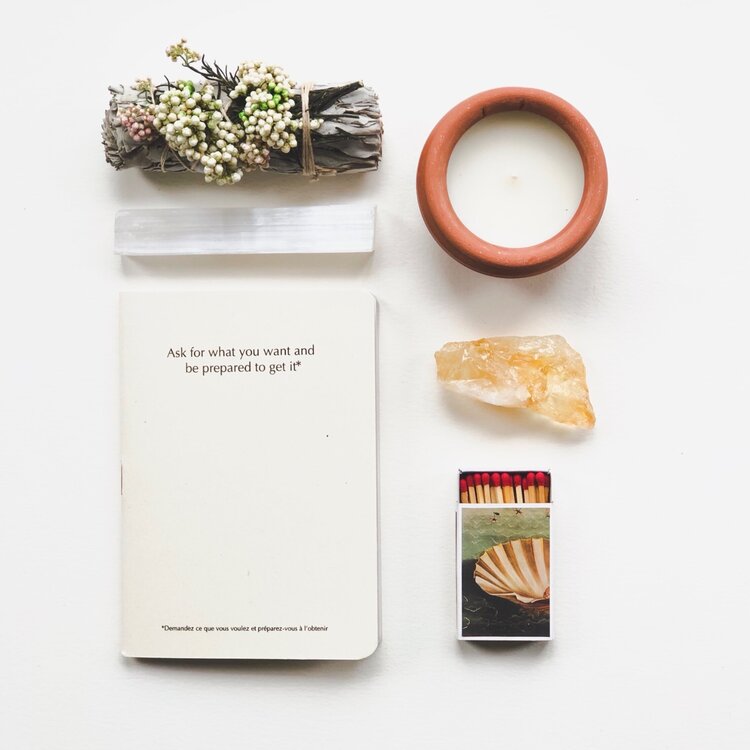 Manifestation Meditation Ritual Kit
Manifestation Meditation, also known as the Law of attraction or Visualisation, is an extremely powerful skill that help people achieve their goals.
This kit contains everything you need to perform your Manifesting Mediation:
+ 1 Californian White Sage (approx. 11cm) with dried flowers bouquet
+ 1 Citrine
+ 1 White Selenite Crystal (approx. 10 cm long)
+ 1 Manifest Notebook (13.5 x 9.5 cm - handmade in Portugal)
+ 1 Handmade Candle in a Clay pot (approx. burn time: 26 hours)
+ 1 Natural cotton Drawstring Bag (17x22 cm)
+ 1 Match box
+ 1 Manifesting Ritual kit guide
CITRINE (from Brazil) is the crystal most commonly utilised in manifestation and associated with joy and success. Widely known as The Merchant's Stone or The Success Stone, Citrine has long been recognised for its ability to stimulate abundance and wealth. It is useful when working towards manifesting your goals in the areas of finance or business.
WHITE SAGE (from California) has a purification effect and its cleansing can help clear any negative energy in your home. This white sage has been gathered and collected by Native Americans in the state of California. Smudging is a ceremony tied to many indigenous cultures for purifying or cleansing the soul of negative thoughts of a person or place.
SELENITE CRYSTAL (from Morocco) is a wonderful aid for meditation: it helps you to clear your mind and relax your body. Selenite helps to release negative energy and also brings a flow of positive energy to raise your vibration and elevate your state.
MANIFEST NOTEBOOK (handmade in Portugal): this is the manifestation journal that you will use with the intention to manifest what you want into reality. In this journal, you will write about the goals and life that you want to attract into your life.
MANIFESTING RITUAL KIT GUIDE: this kit is delivered with a guide on how to use your kit to manifest your dreams and make them happen.
Also comes with a match box, a handmade candle and burning instructions.
Manifestation Meditation Ritual Kit