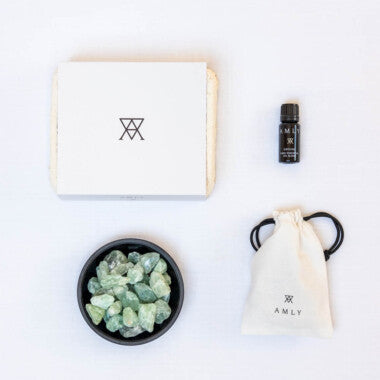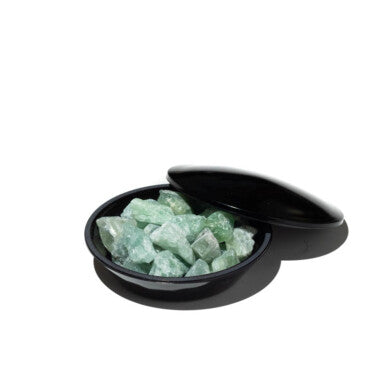 Luxurious Room Fragrance Set: GROUND - Self Care Set
By AMLY 
Sanctuary in scent…

An alternative way to fill your home with health-promoting fragrance.
All-over wellbeing is amplified through the synergy of the energetic properties of ethically sourced crystals with the healing aromatic botanicals in essential oils.
Simply drop GROUND Essential Oil Blend on the raw Fluorite crystals and reap the benefits as they work together to diffuse sumptuous, long-lasting and health-giving scent.
There is no need for heat, water or electricity, and no liquid is involved, making these elegant diffusers highly adaptable, portable and able to be used just about anywhere.
Fragrance Notes
A subtle yet reassuringly botanical scent with green notes, GROUND is a complex blend of high-performing essential oils. The fresh forest fragrance of Cedarwood enhances the crisp woody scent of Juniper, while earthy Frankincense and rich Niaouli offer warm and calming undertones.
Sustainable Packaging
The low-impact gift box itself is made from mushrooms and crop waste, such as hemp and hops, and will decompose in the earth that gave life to its components.
10ml GROUND Pure Essential Oil
180g Fluorite Crystals
Organic cotton drawstring bag
Violet-glass bowl: Dimensions: 122mm; Weight: 330g
Luxurious Room Fragrance Set: GROUND - Self Care Set