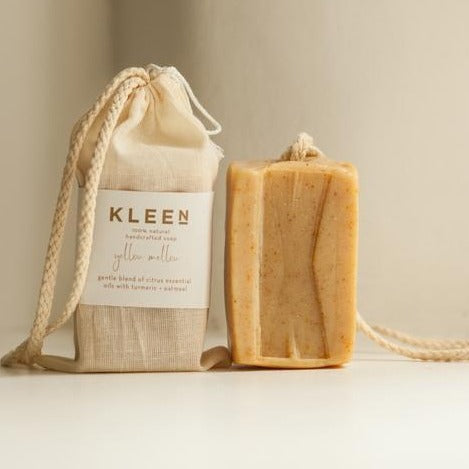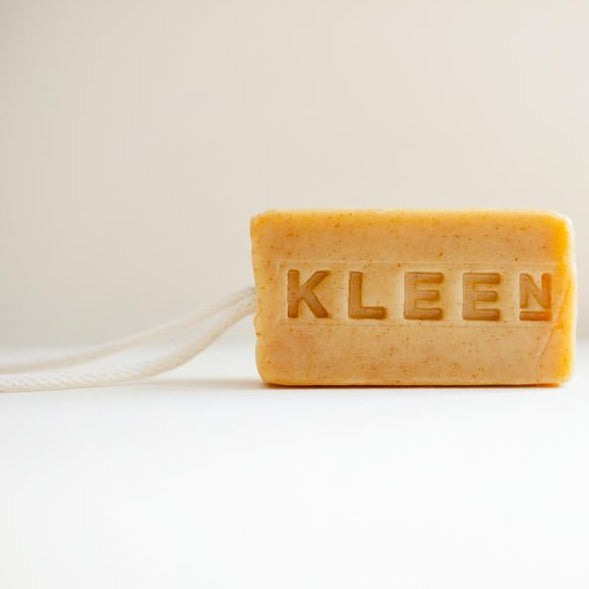 Gentle Exfoliating Citrus Soap on a Rope with Turmeric, Oatmeal and Citronella
Handmade Vegan Soap Weight approx.160g
Vibrant in its citrus scent and turmeric colour, Yellow Mellow gently exfoliates the skin with an oatmeal scrub. Radiant and soothing, with grapefruit, rosemary, and citronella essential oil counterbalancing the rich creaminess of shea and cocoa butter, this soap deeply cleanses the pores of your skin leaving your body feeling invigorated. 
Conceived to help you reduce the use of plastic in your home - ensuring that no soap is unused through a centred cotton rope - Kleensoaps has redefined the classic idea of soap on a rope to give you a long-lasting, waste-free product.
Includes a cotton soap travel bag. All packaging is either recycled or recyclable.
Ingredients:
Coconut Oil (Sodium Cocovate), Olive Oil (Sodium Olivate), Shea Butter (Sodium Shea Butterate), Ricebran Oil (Sodium Ricebranate), Castor Oil (Sodium Castorate), Aqua, Sodium Hyrdroxide, Glycerin, Vitamin E Oil (Tocopherol), Sodium Lactate, Rosemary Essential Oil (Rosemarinus Officinalis Leaf Oil), Grapefruit Essential Oil (Citrus Paradisi Peel Oil), Citronella Essential Oil (Cymbopogon Winterianus Oil), Turmeric (Curcuma Longa Root Powder), Oatmeal (Avena Sativa Kernel Meal), and Kaolin Clay.
KLEEN - Yellow Mellow